Jon Freeman, with Great Smoky Wildland Fire Module, monitors the behavior and direction of the fire during a prescribed burn in Cades Cove in Great Smoky Mountains National Park. Crews were burning roughly 440 aces to reduce shrub and tree intrusion, exotic plant species invasion and help maintain open meadows critical to the habitat of native wildlife.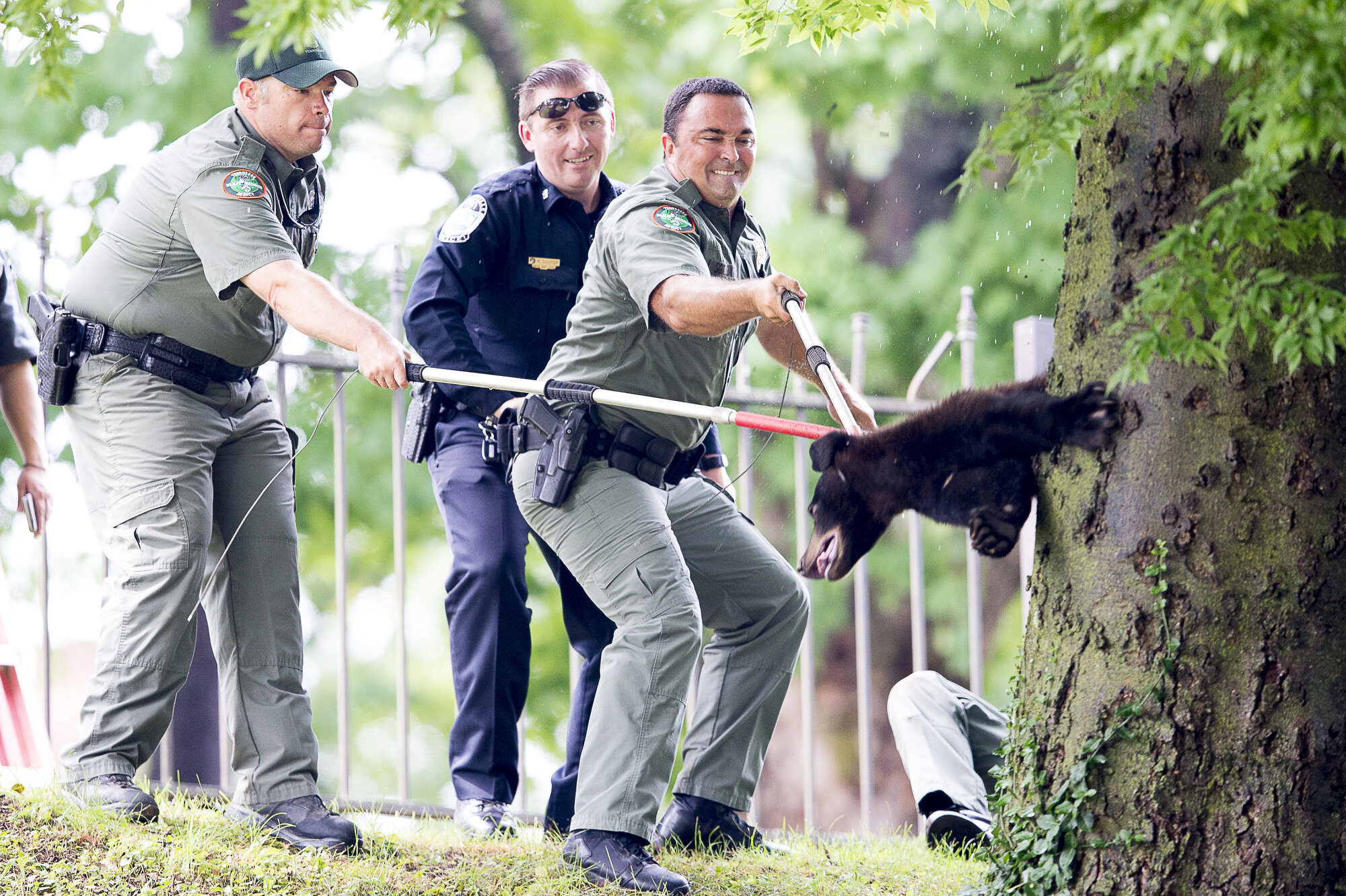 TWRA Sergeant Roy Smith, right, Knoxville Police officer Michael Cooper, and Clint Smith pull a small yearling black bear with catch pole from a tree after it was tranquilized at Morningside Park in Knoxville. The 100-pound yearling black bear was most likely displaced by its mother and wandered into the city in search for food, said a TWRA Sergeant Roy Smith.
A pedestrian crosses Market Street in Knoxville during a morning snowfall in January 2019.
First responders pull a man from a burning building on 1210 Clinch Avenue in Fort Sanders in Knoxville, Tennessee on Saturday, May 19, 2018. KFD rescued a single occupant from the building.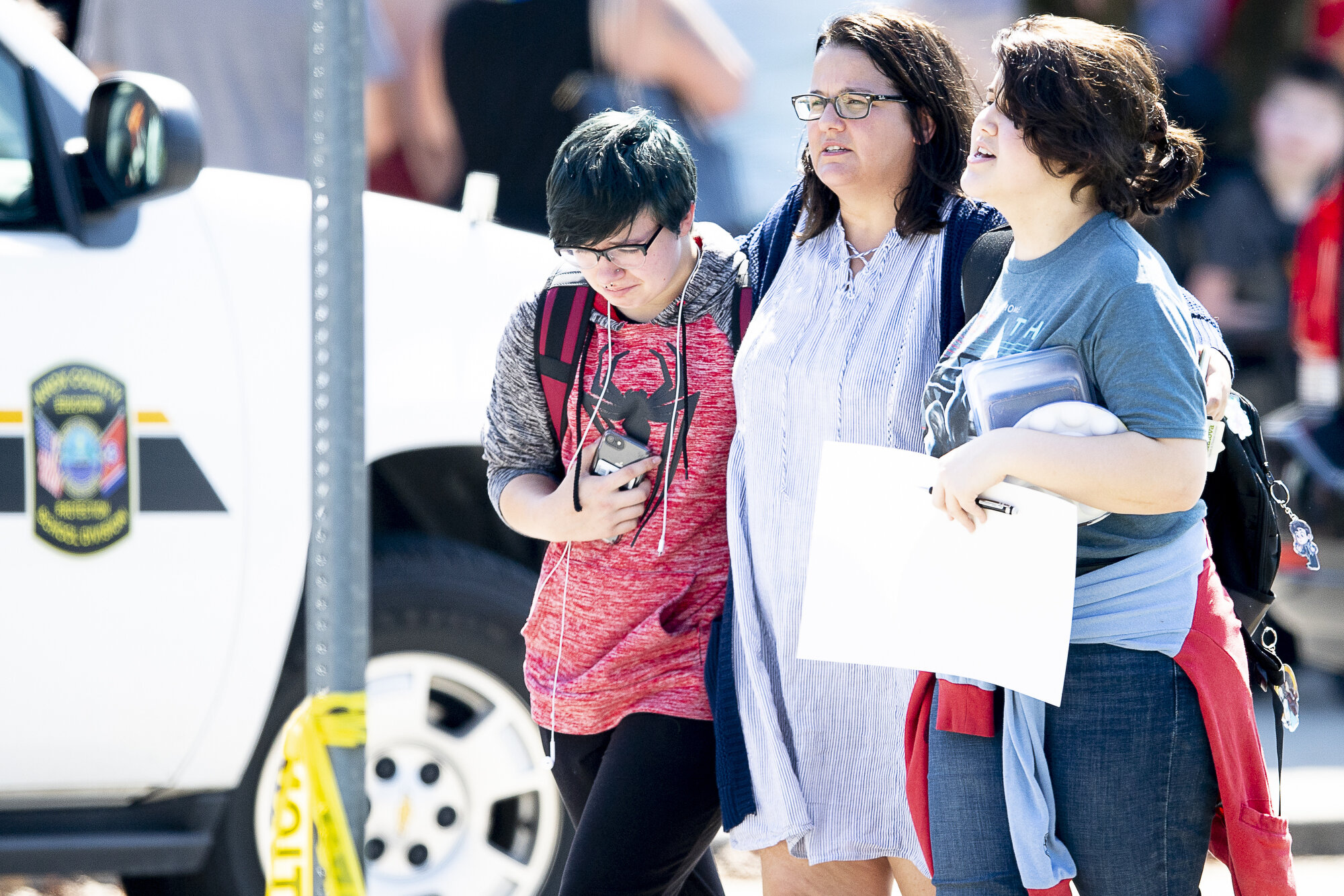 Student walk out of school with a loved one at Powell High School after unconfirmed reports of shots fired outside the school in Powell, Tennessee on Tuesday, September 3, 2019.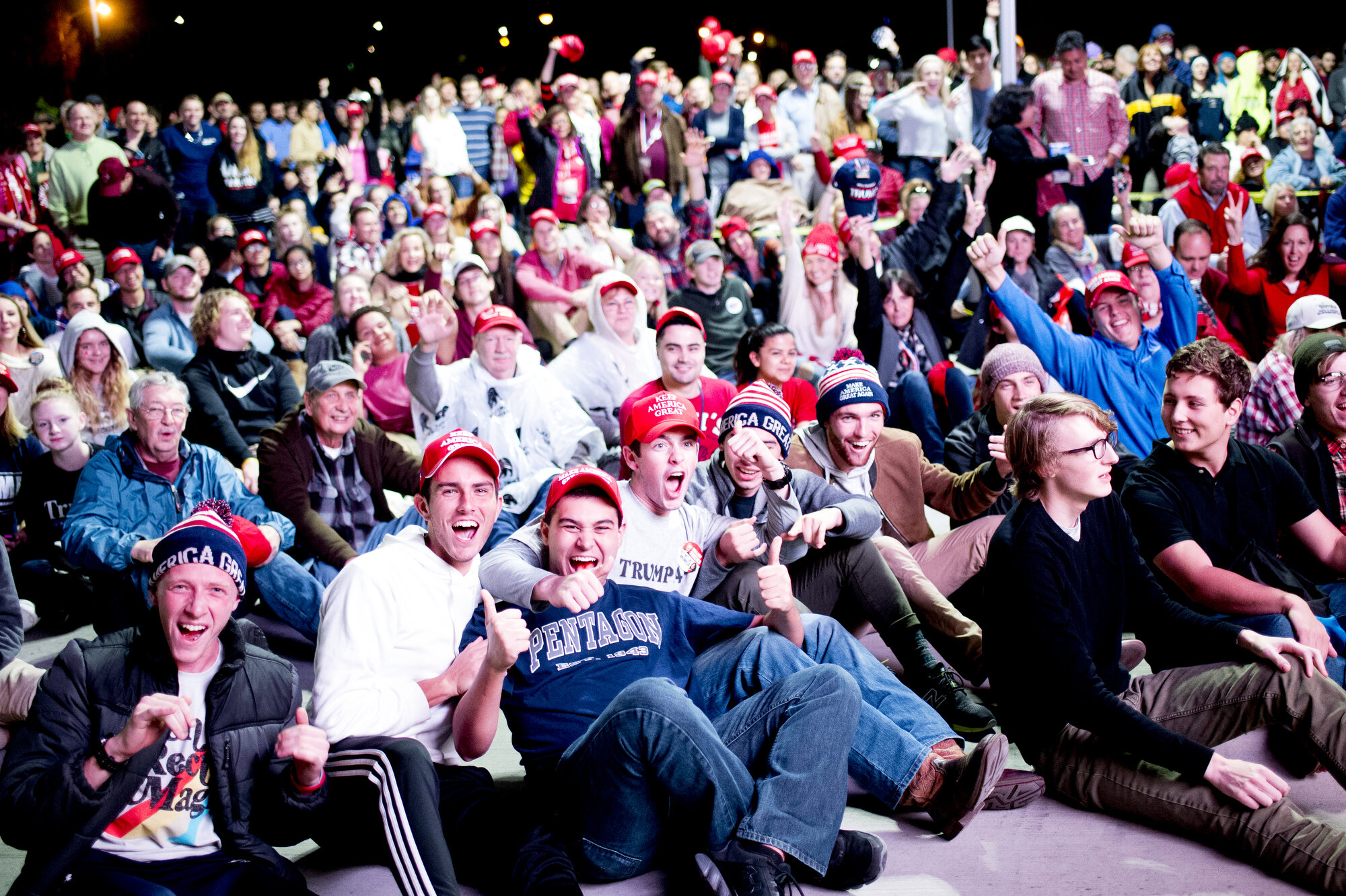 Supporters of President Donald Trump cheer during the president's "Make America Great Again" Rally at McKenzie Arena in Chattanooga, Tennessee in November 2018.
A small airplane, of which NASCAR driver Dale Earnhardt Jr. and his family were passengers, is seen after a fiery crash on Highway 91 at Elizabethton Municipal Airport in Elizabethton, Tennessee. All passengers on board made it out of the plane alive.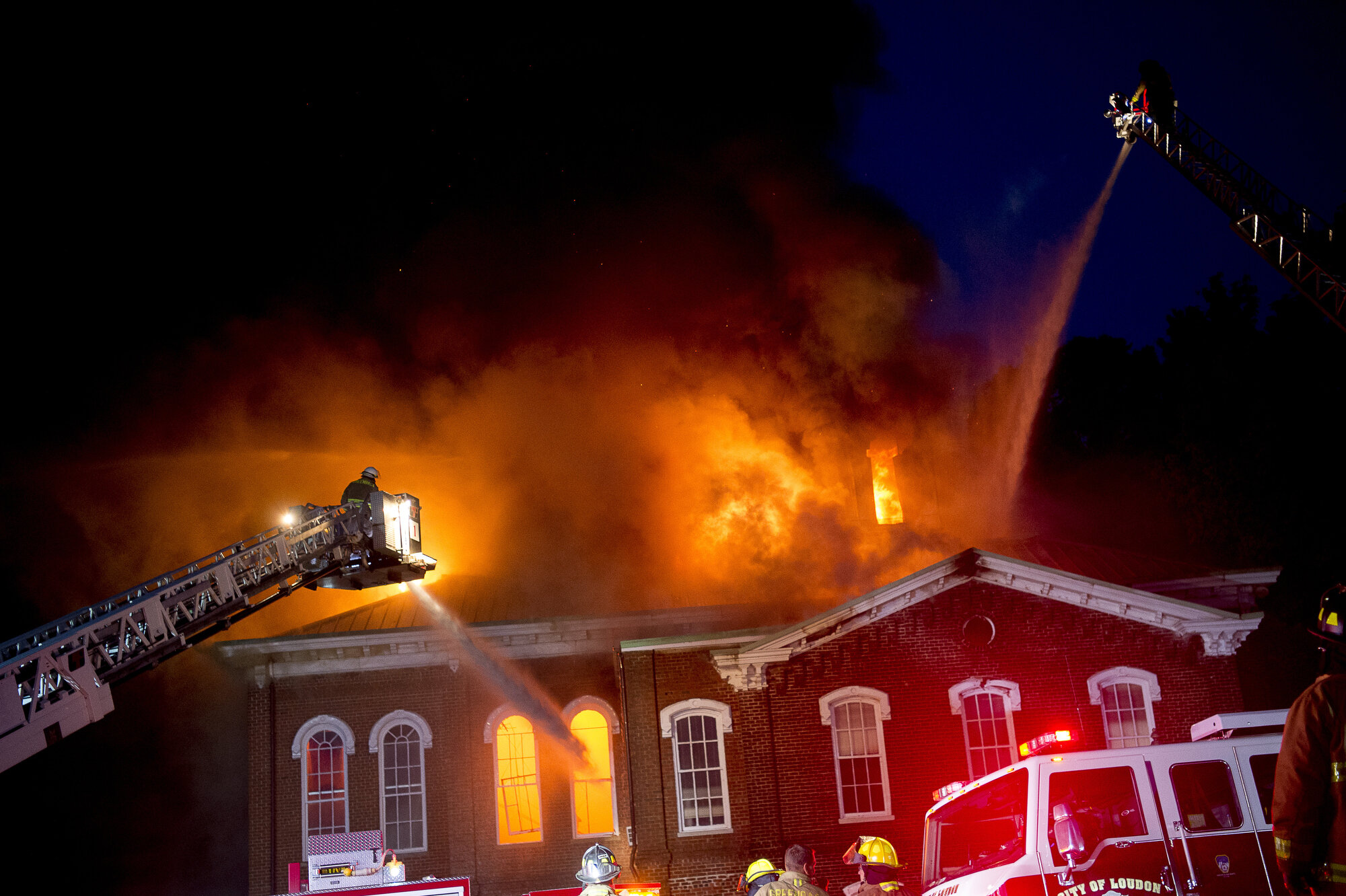 Firefighters douse the flames with water from ladder trucks at a fire at the Loudon County Courthouse in Loudon, Tennessee on Tuesday, April 23, 2019. The building, which was built in the 1870's and listed on the National Register of Historic Places, was consumed almost entirely by flames Tuesday evening.
Police SWAT officers keep an eye on the alley where Thomas Fee, 52, of Hutchinson, barricaded himself in a garage with a gun, causing a standoff with police on July 4, 2014, in Hutchinson, Kan. Fee was eventually taken into custody after two attempts at flooding him out with tear gas.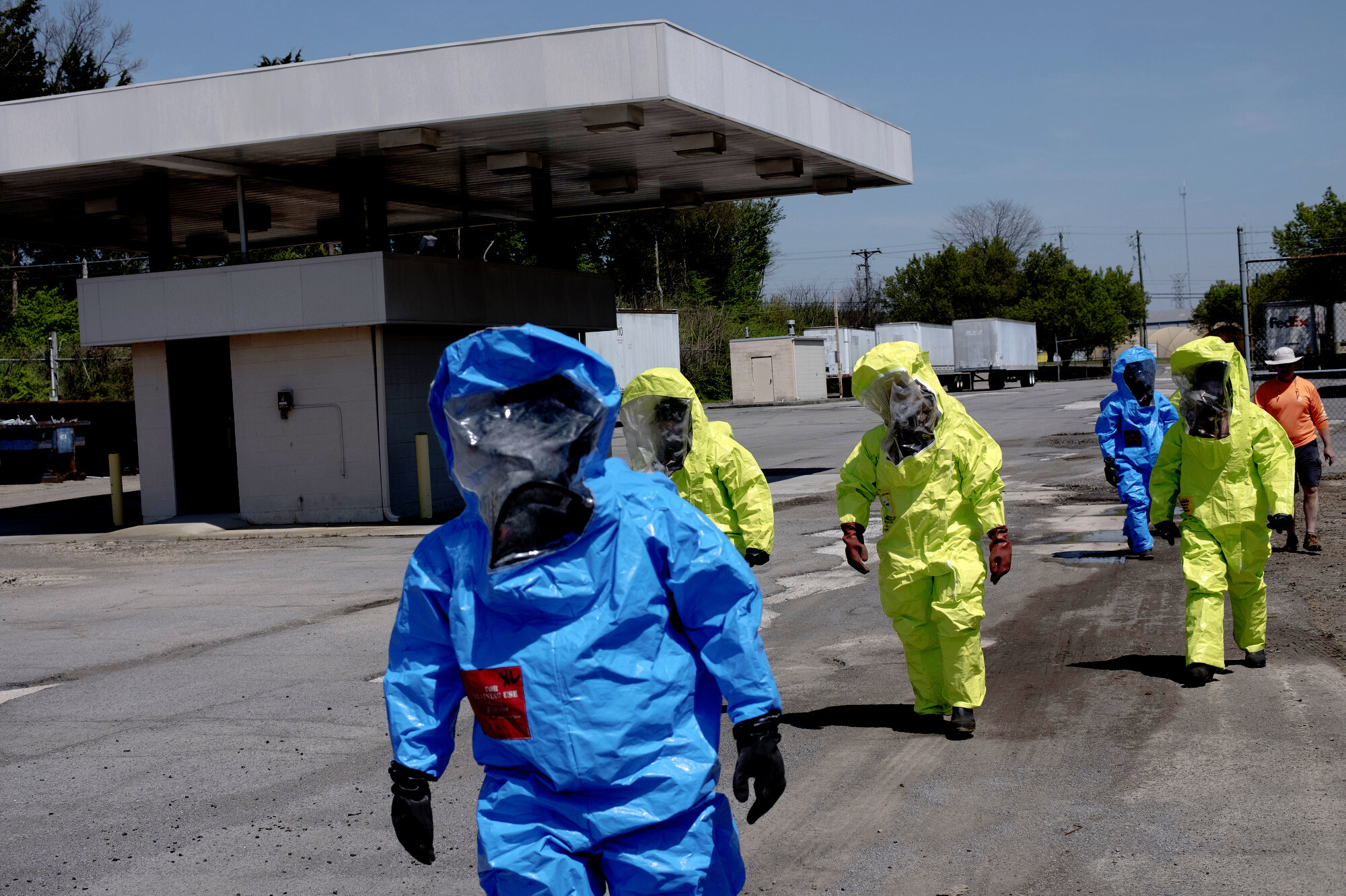 Hazardous material technicians walk in Class A hazmat suits during a field training session on remediating underground bombs and hazardous material in brown fields. Their training requires OSHA's 29 CFR 1910.120 certification, which private sector emergency responders obtain after successfully undergoing hazardous material response training.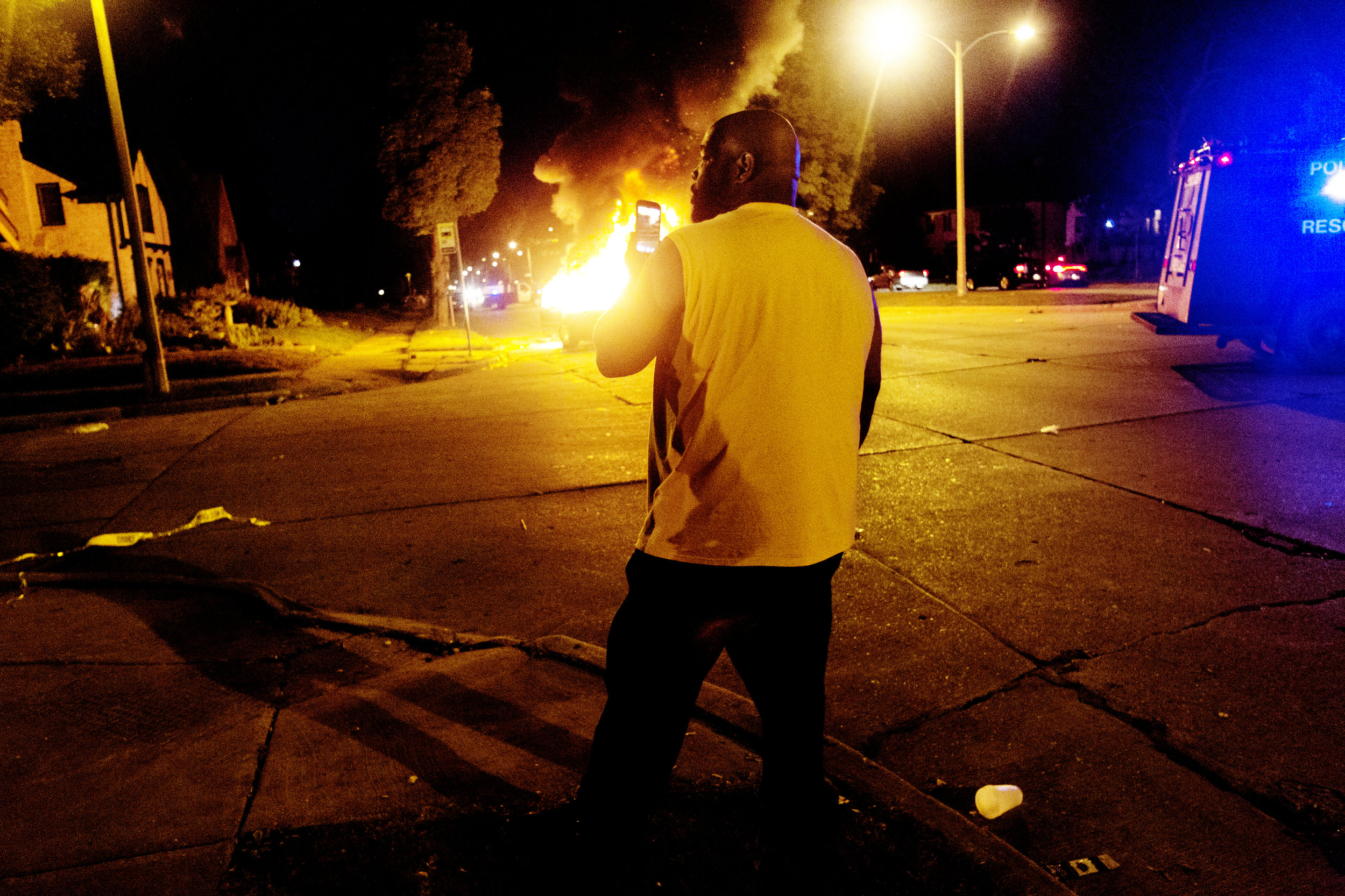 A bystander watches as an automobile burns at the scene of a riot on Sherman Boulevard and Auer Street in Milwaukee, Wisconsin on August 13, 2016. The riot was the result of heated confrontations between police and protestors after an unarmed man was shot and killed by a police officer earlier in the day.
A woman is rescued by emergency responders after falling from a porch during the annual Mill Fest block party in Athens, Ohio.
Firefighters spray a fire retardant foam onto a fire at Fort Loudon Waste & Recycling as seen in this aerial photograph taken from an airplane in Knoxville.
Gloria Speed, aunt of Jay Anderson, who was shot and killed by a Wauwatosa Police officer in the early morning hours of June 23rd, is comforted during a Coalition for Justice rally at Red Arrow Park in downtown Milwaukee.
People walk past a large sinkhole on Greenwell Road in Powell, Tennessee. The sinkhole is estimated to be around 20 feet deep.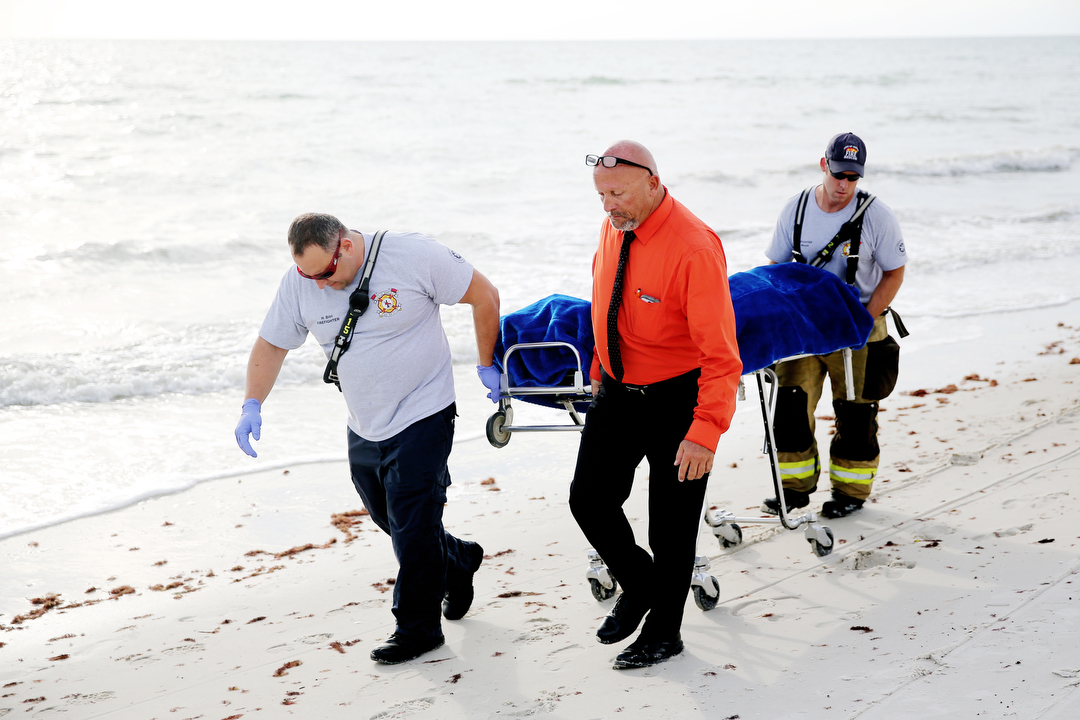 Collier County Coroners remove a corpse that washed ashore at Vedado Beach in Naples, Florida, on Monday, July 12, 2015.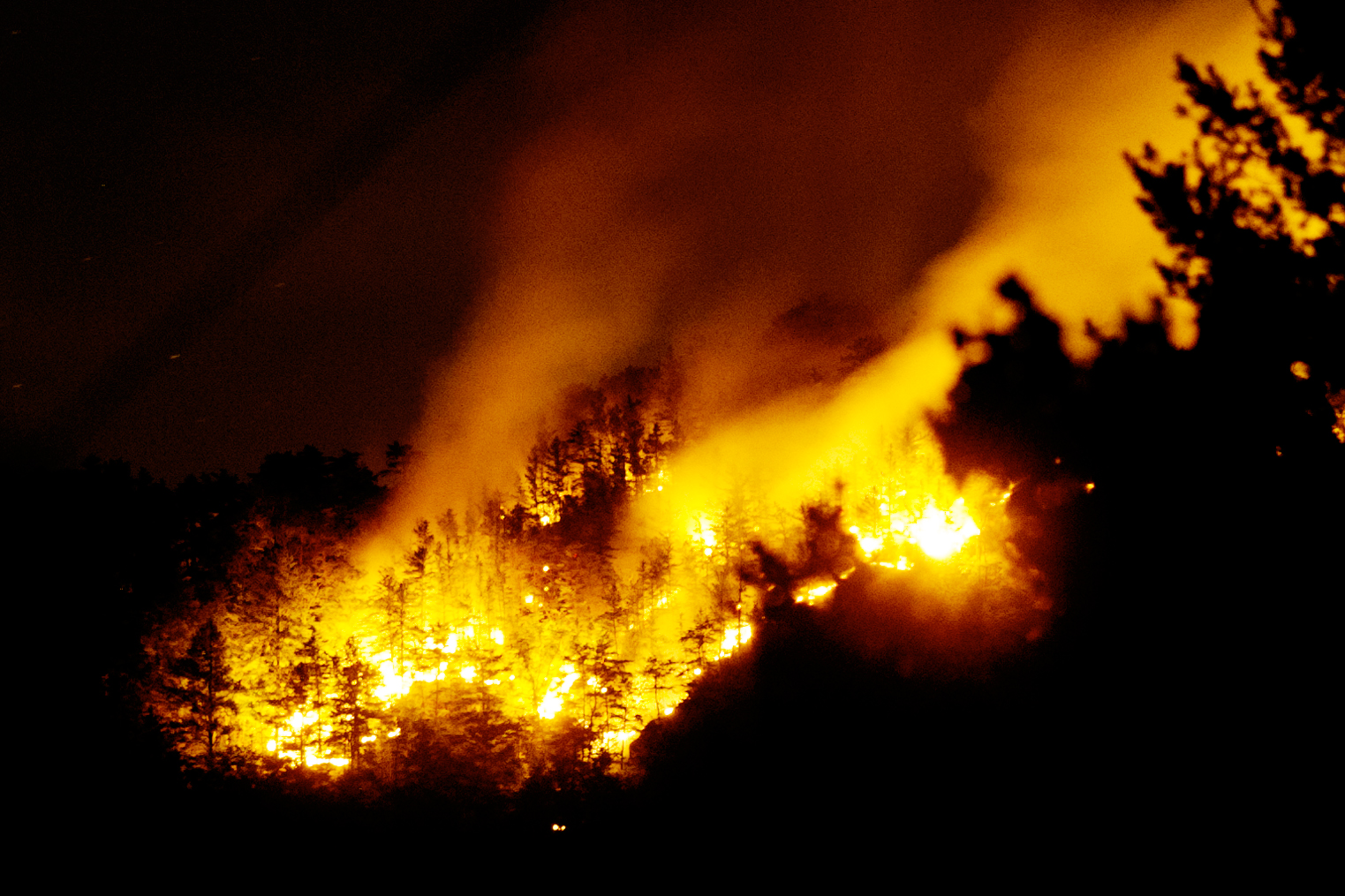 A wildfire is seen burning atop English Mountain outside of rural Sevierville, Tennessee on Saturday, August 26, 2017.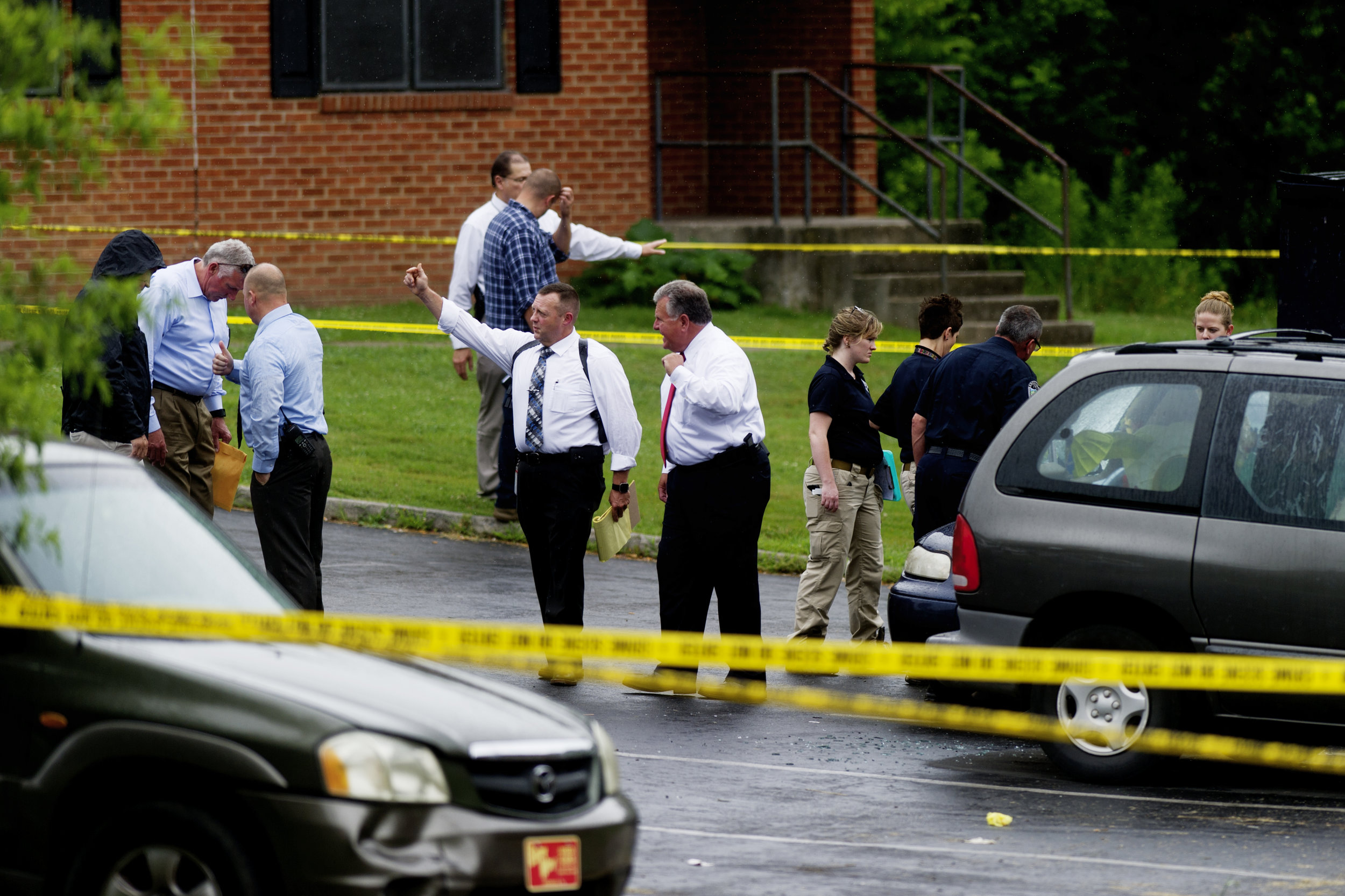 Investigators at the scene of a triple shooting at Montgomery Village Apartments in South Knoxville. Three individuals were reported shot and two killed.
The Oak Creek Police Department Honor Guard carries the casket of Jennifer Sebena to her final resting place at Wisconsin Memorial Park in Brookfield, Wisconsin, on December 29, 2012. Wauwatosa Police Officer Jennifer Sebena was shot and killed by her husband, Benjamin Sebena, while on duty Christmas Eve.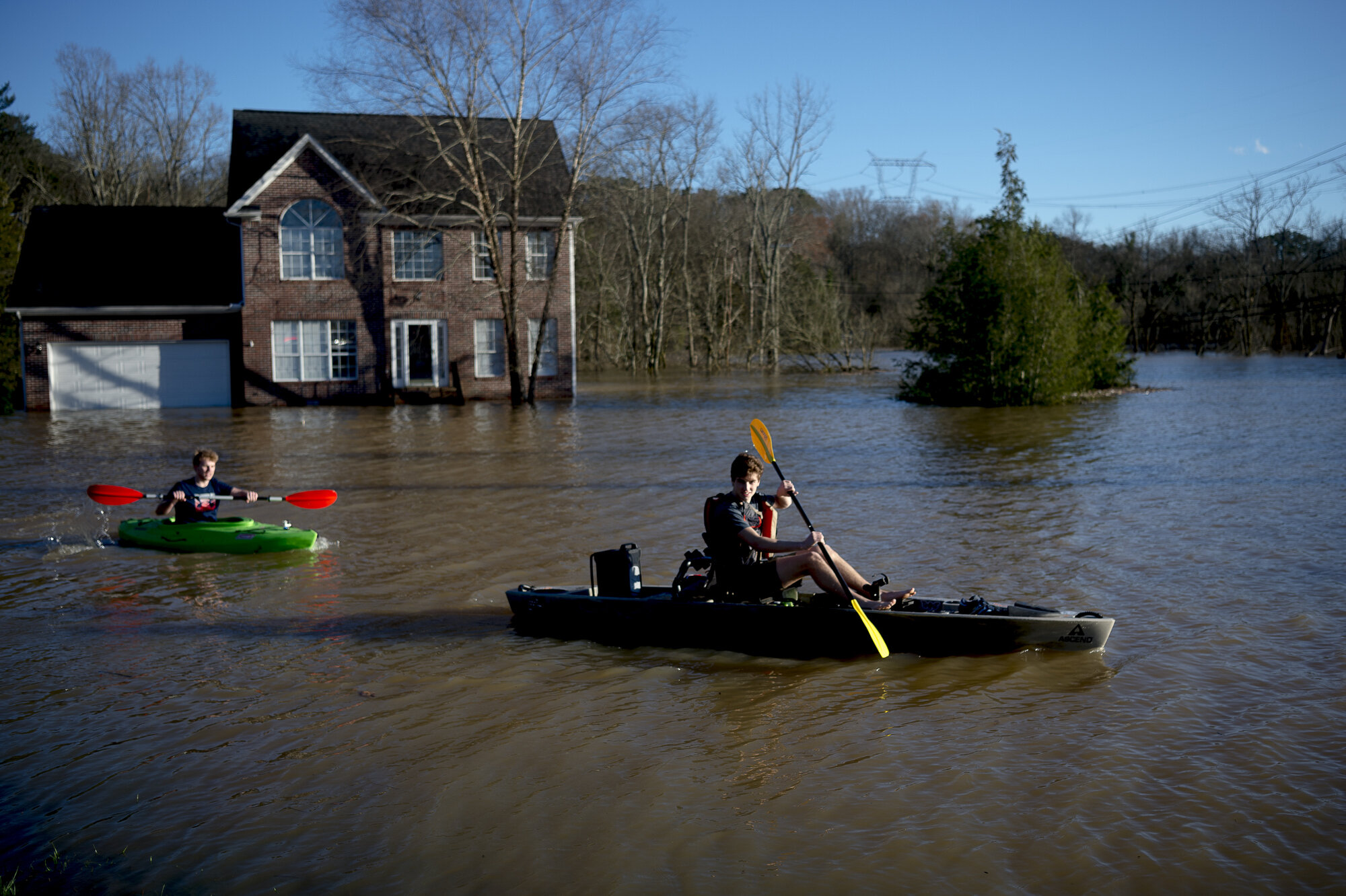 Truman Douglass and James Webster, both from Knoxville, pass by a flooded home next to the Sunoco on Ebenezer Road and Gleason Drive in Knoxville in February 2019.