John Texada walks through Market Square with his son Collin, who is 5 1/2 months old, during a brief snowfall in downtown Knoxville, Tennessee on Thursday, January 4, 2018. Texada took his son for a walk so he could experience his first snowfall.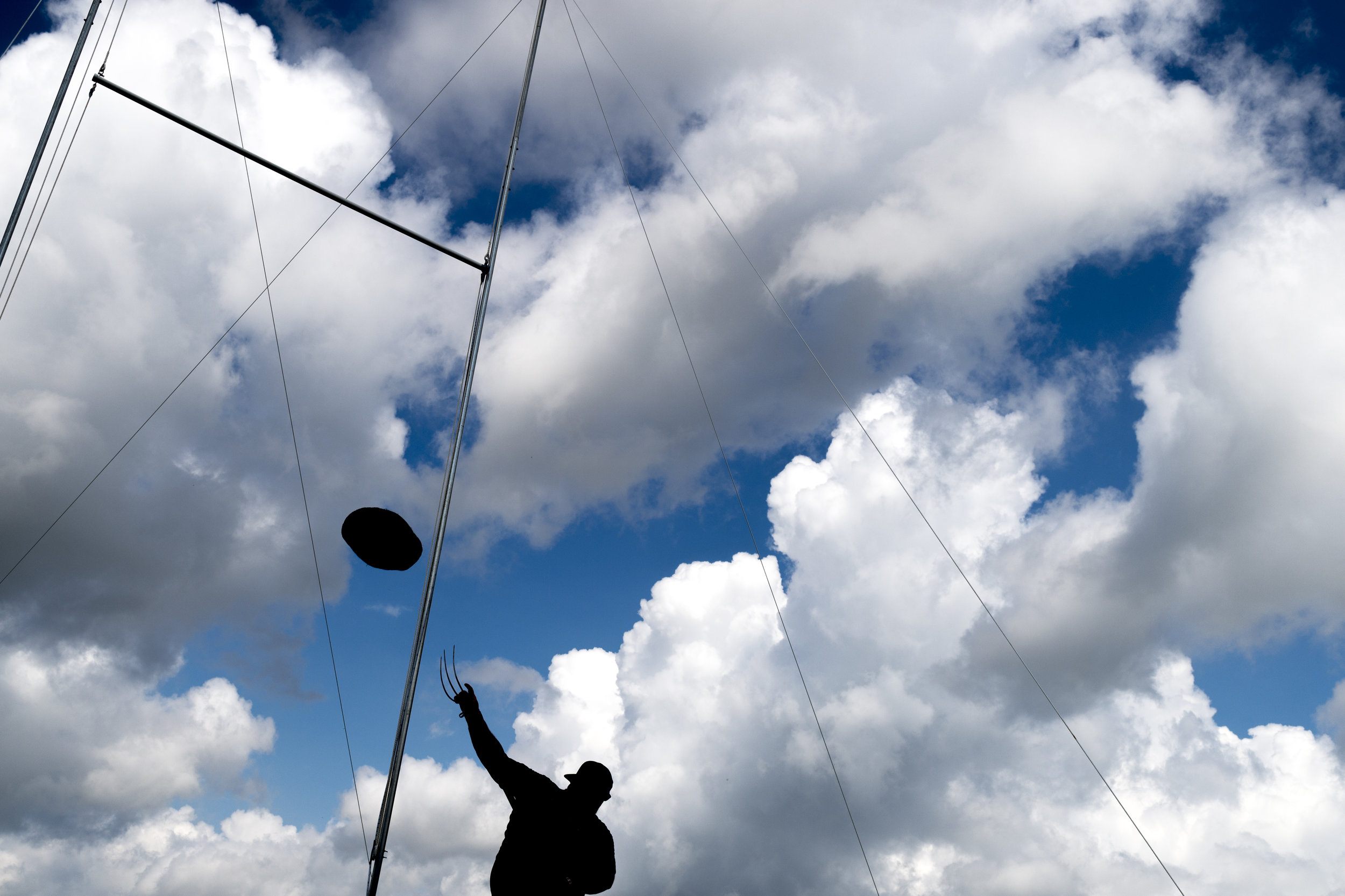 Josh Sharp, of Rocky top, competes in the Sheaf Toss at the Smoky Mountain Scottish Festival and Games held at Maryville College in Maryville, Tennessee. Sharp was throwing his 20-pound sheaf at 20 feet; the world record is 36 feet.
Jamel Fletcher holds Xavier Fletcher during a candlelight vigil held for Mekhi Luster, the 18-year-old victim of shooting in Southwest Knox County, at Sam Hill Park in Knoxville, Tennessee on Tuesday, April 24, 2018.
Jy'Zayiah Davis, 9, of Knoxville, wears "I Voted" Tennessee stickers on his face while at Fair Garden Elementary School while his mom votes on Election Day in Knoxville. Voters were voting for Tennessee's next governor, U.S. senator, congressional representatives and dozens of state lawmakers.
Bearden high school seniors enter their graduation ceremony at Thompson-Boling Arena in Knoxville, Tennessee on Friday, May 18, 2018.
Pedestrians stay dry beneath their umbrellas while crossing Locust Street on Clinch Avenue in Knoxville, Tennessee.
Gatherers sing worship songs during the monthly Gathering of Nations worship service at East Town Mall in Knoxville, Tennessee on Friday, February 9, 2018. Christians from a variety of nations meet once a month for a service where they pray, sing and worship in their respective native tongues.
A group of boys emerge from Lake Michigan during the annual Polar Bear Plunge at Bradford Beach in Milwaukee on January 1, 2014. Hundreds of people welcomed the new year by jumping into frigid 30 degree Lake Michigan during 20 degree outside temperatures.
Gary Christian hugs his wife, Lori, at their West Knoxville home Knoxville. Christian lived for 11 years only to plot to kill the people who tortured, raped and murdered his 21-year-old daughter, Channon. On the day her body was found crammed in a trash can, her father – who had been a Baptist since he was 8 – screamed at God he was done with him. 11 years later, he fell on his knees at his daughter's grave and asked God to come back. Now he tells his testimony and urges others to open their souls to the Lord.
Richard Bellah, of Knoxville, mows the lawn in front of Broadway Baptist Church in Knoxville. Bellah, who is a member of the church, has been doing landscaping for the church for eight years.
Sean Richardson gives Jamie Velasquez, of Chattanooga, and Erik Lopez a ride in his hot air balloon at the second annual Smoky Mountain Balloon Festival in Townsend, Tennessee. The festival featured several hot air balloons, food trucks, wine tasting and live entertainment.
David Trout, a nurse at the University of Tennessee Medical Center, check the lungs of patient Ruth Shipley in Knoxville. Trout is the Health Care Hero in the nurse category.
A supporter during President Donald J. Trump's "Make America Great Again" Rally in Chattanooga, Tennessee.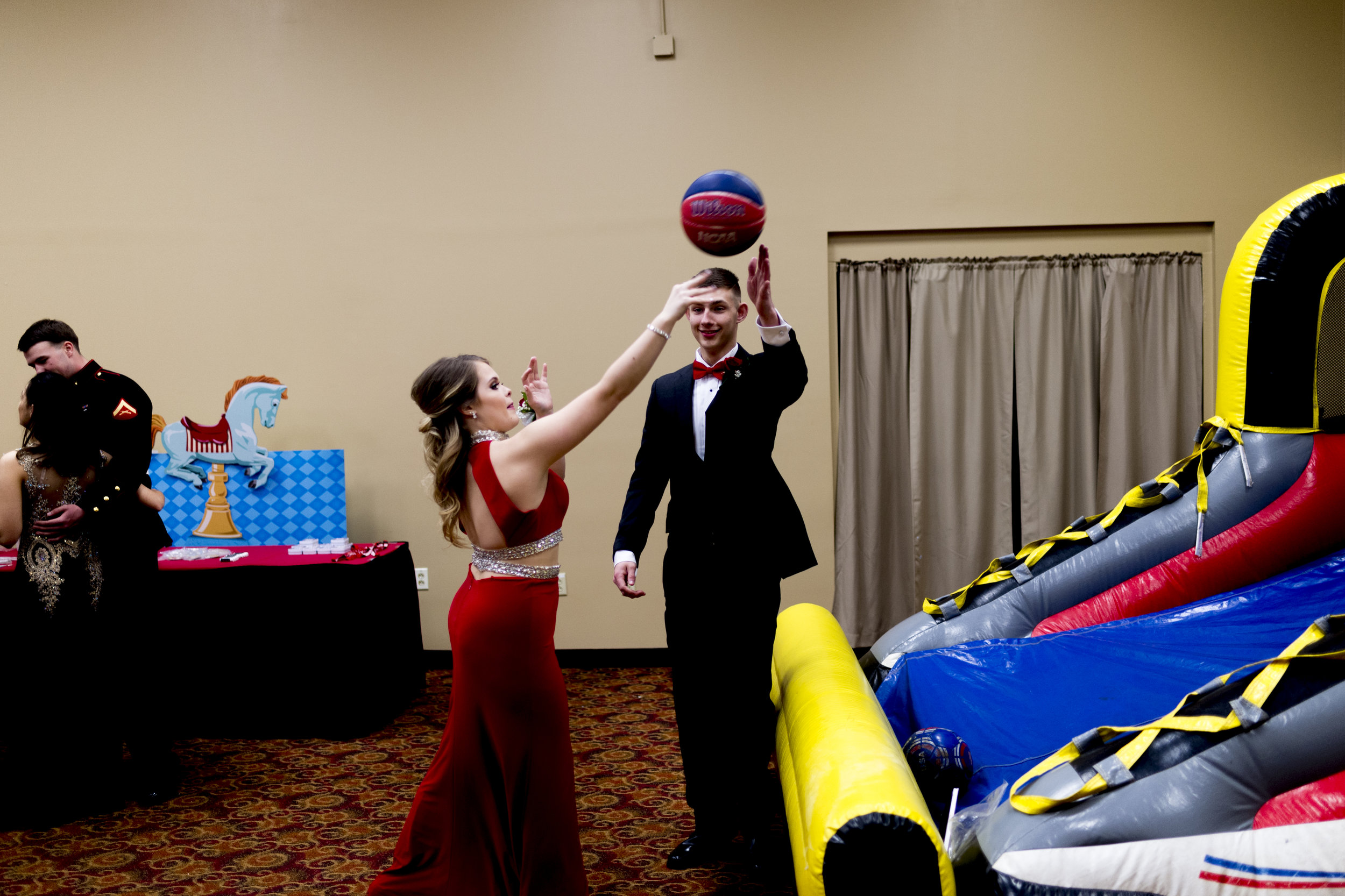 A couple plays a game at the Hardin Valley High School prom at The Grand Event Center in Knoxville.
Jim Worrell sits beside his 1935 2-door Chevy at the 44th annual Street Rod Nationals South at Chilhowee Park in Knoxville.
Dee Dee Brownlee with her student Tashea at the Big Brother Big Sister club meeting at South-Doyle High School in Knoxville. This group is part of the Big Brother Big Sister Mentor 2.0 program.
A woman dressed in an alien costume dances on Court Street during the annual Halloween Block Party in Athens, Ohio.
John Randolph, of Blacksburg, Virginia, watches the solar eclipse through solar glasses during the total solar eclipse festival in Sweetwater, Tennessee on Monday, August 21, 2017. Sweetwater is expected to experience over two minutes of complete totality.