A Powell player warms up before a game between Campbell County and Powell at Campbell County High School in Jacksboro, Tennessee.
William Blount's Trey Clemmer (16) looks to pass during the Blount County football jamboree at William Blount High School in Maryville, Tennessee.
Tennessee guard Jordan Bone (0) grabs the rebound from West Virginia forward Wesley Harris (21) during a SEC/Big 12 Challenge game between Tennessee and West Virginia at Thompson-Boling Arena in Knoxville.
Bodybuilders prepare to compete at the Arnold Sports Festival in Columbus, Ohio.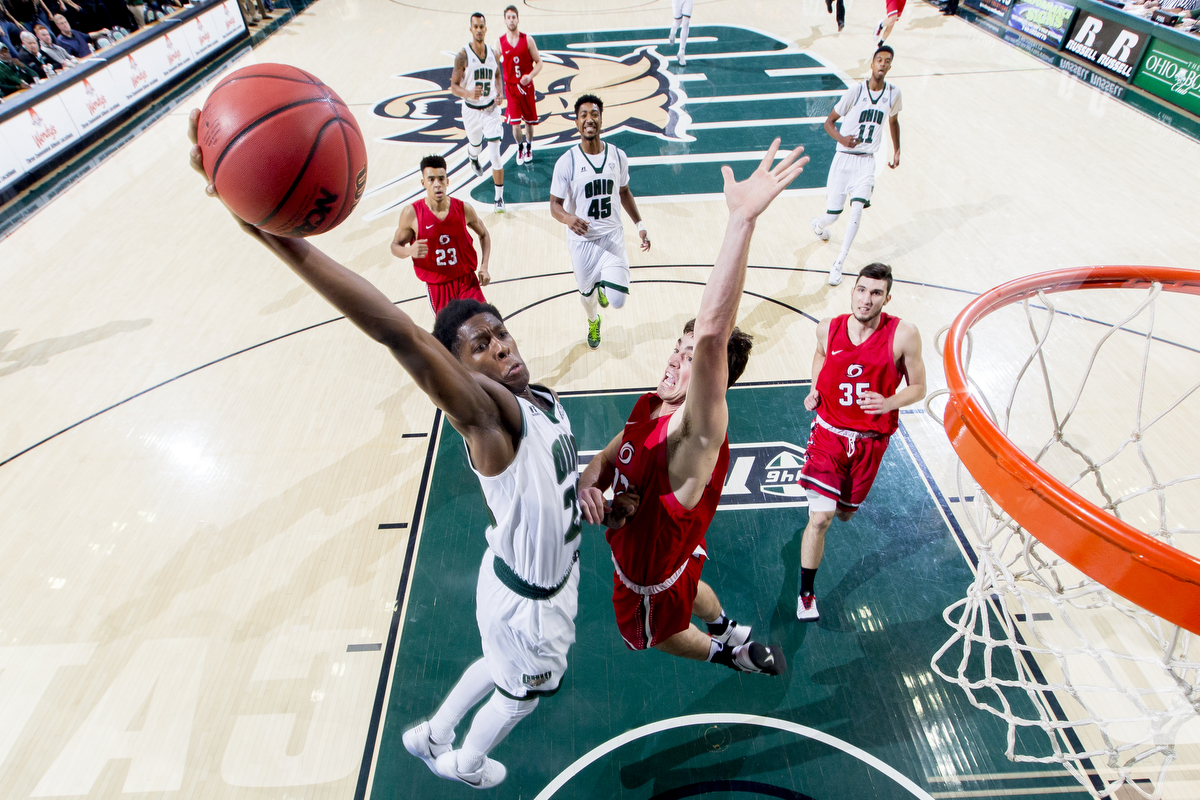 Ohio Bobcats Rodney Culver (23) goes for a dunk past Rio Grande's Kaileb Sheets (12) at the Convocation Center in Athens, Ohio.
Austin-East's Ronney Pierson (5) goes for a layup past Fulton's Tommy Sweat (22) during a game between Austin-East and Fulton at Austin-East High School in Knoxville.
Austin Dillon (3) goes airborne upside down in a crash on turn one after the final lap during the Coke Zero 400 NASCAR Sprint Cup race at Daytona International Speedway in Daytona Beach, Florida.
Hardin Valley's Bobby Farr (84) and Braden Schloff (31) await the start of their game against Oak Ridge High School at Blankenship Field in Oak Ridge, Tennessee.
Memphis University School's Matthew Rhodes (32) walks off the field after a game against Brentwood Academy at the TSSAA Blue Cross Bowl at Tucker Stadium at Tennessee Tech in Cookeville, Tennessee.
Wade Boteler hits from the bunker during the first round of play at the Knoxville Open at Fox Den Country Club in Farragut, Tennessee.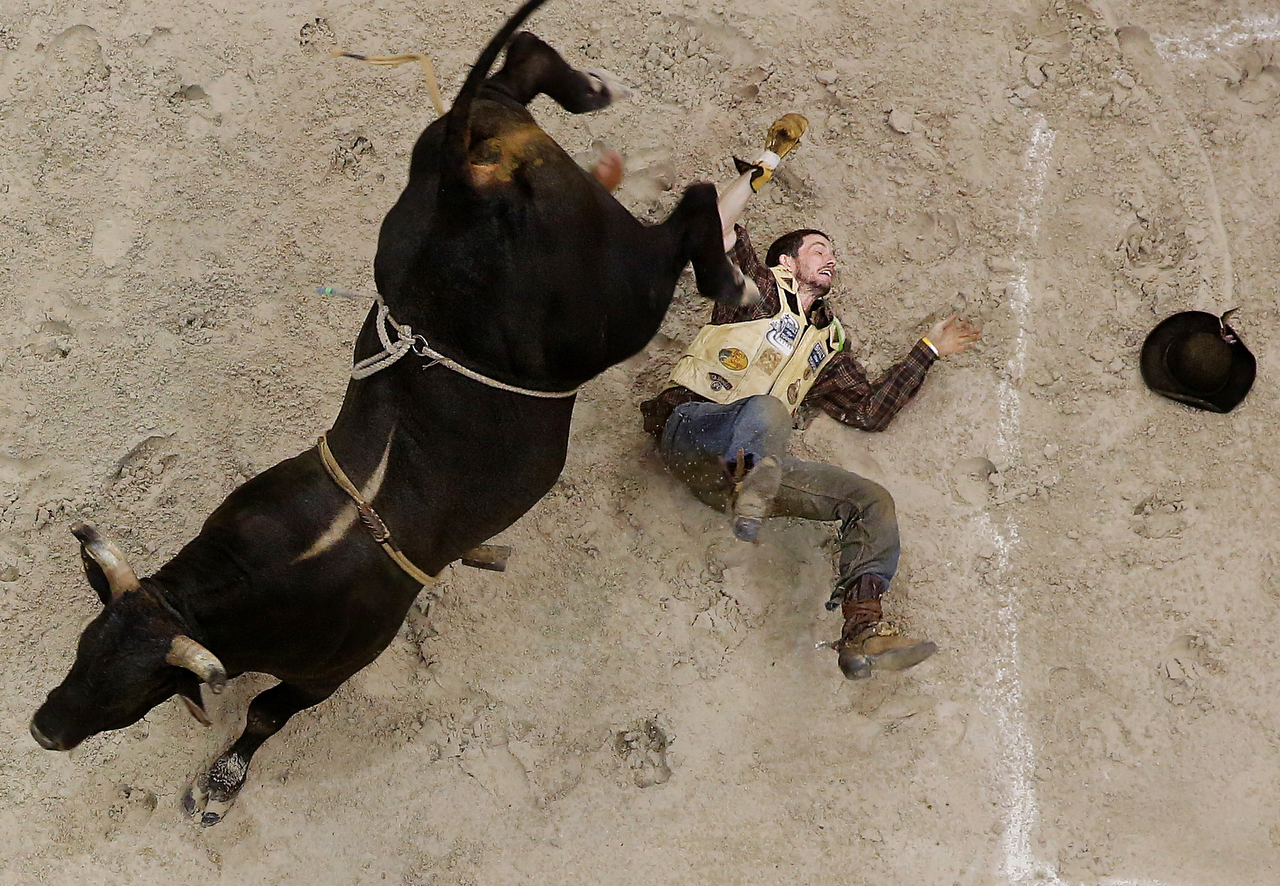 Rooster McKeeman falls from Wing Nut during the second night of the PBR bull riding competition at Germain Arena in Estero, Florida.
during a game between Tennessee and Alabama at Lindsey-Nelson Stadium in Knoxville, Tennessee.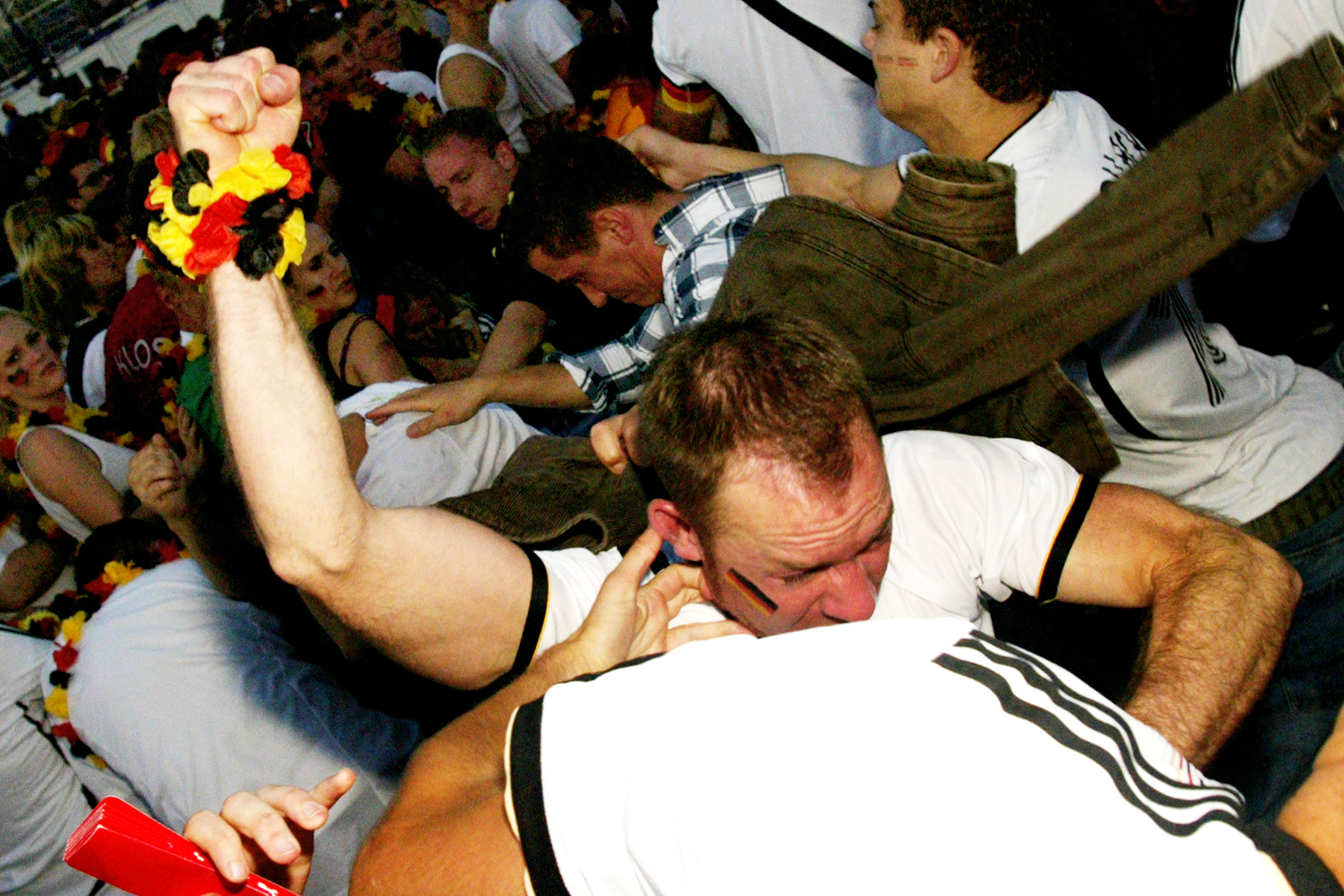 Germany and Greece fans brawl in the fan section during a public viewing of the UEFA Euro 2012 Greece versus Germany soccer game in Berlin, Germany, on June 22, 2012.
Milwaukee Brewers pitcher Matt Garza (22) stretches before game two between the Milwaukee Brewers and the Arizona Diamondbacks at Miller Park in Milwaukee.
Trimble High School Football players hype themselves up before a game at Glouster Stadium in Glouster, Ohio.
Tennessee running back Ty Chandler (3) pushes away Florida cornerback Marco Wilson (3) as he runs the ball down the field at Ben Hill Griffin Stadium in Gainesville.
Anderson County Head Coach Davey Gillum and his wife Margarita are drenched with water during the celebration during a game between Anderson County and Heritage at Anderson County High School in Clinton, Tennessee.
Tennessee defensive back Maleik Gray (4) does a backflip after defeating Southern Miss 24-10 at Neyland Stadium.
Ohio Bobcats Men's Basketball Head Coach Saul Phillips agues with the referree during a game against Sam Houston State University at the Convocation Center in Athens, Ohio.