A pedestrian crosses Market Street in Knoxville during a morning snowfall in January 2019.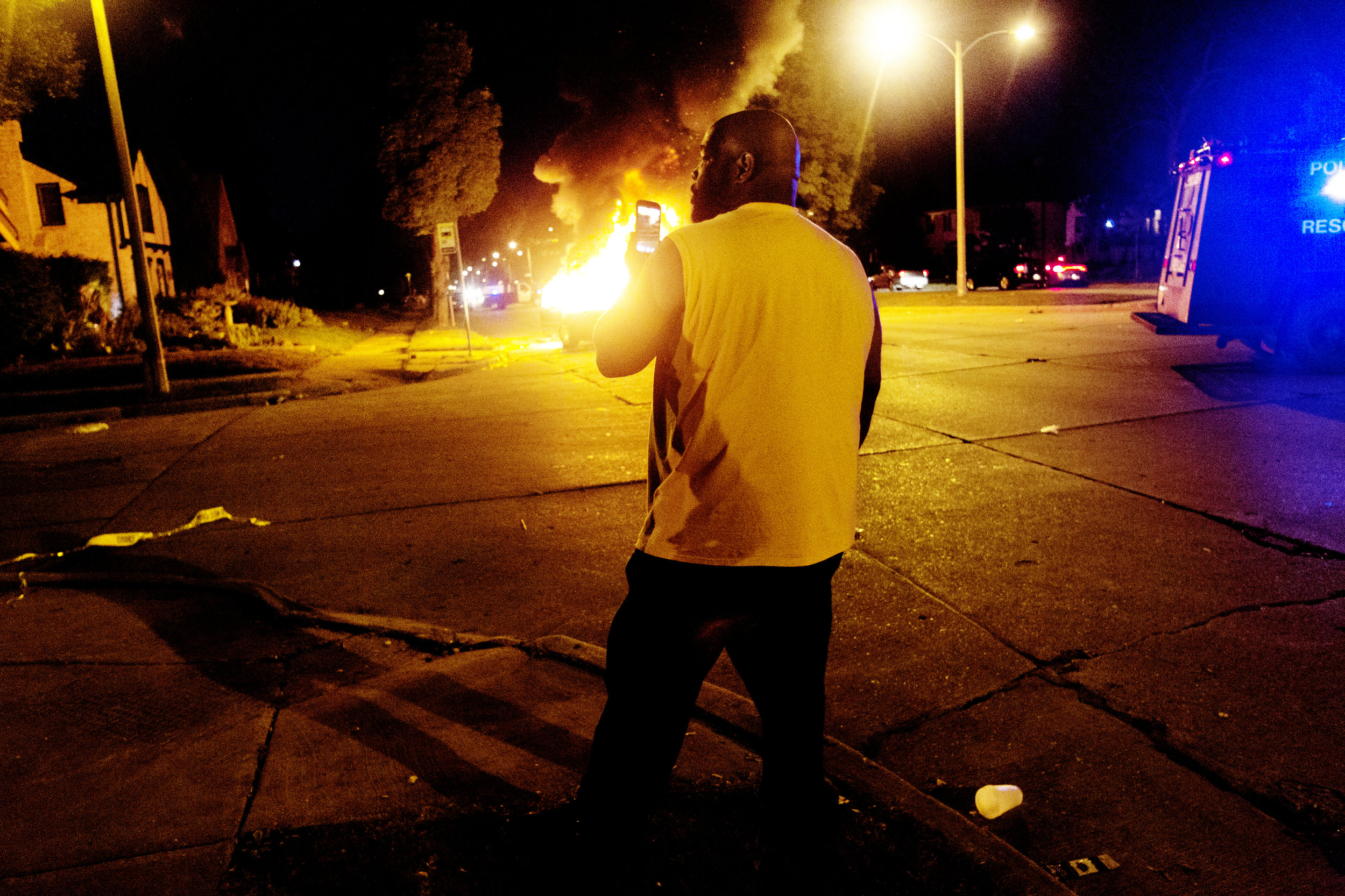 A bystander watches as an automobile burns at the scene of a riot on Sherman Boulevard and Auer Street in Milwaukee, Wisconsin on August 13, 2016. The riot was the result of heated confrontations between police and protestors after an unarmed man was shot and killed by a police officer earlier in the day.
First responders pull a man from a burning building on 1210 Clinch Avenue in Fort Sanders in Knoxville, Tennessee on Saturday, May 19, 2018. KFD rescued a single occupant from the building.
Police SWAT officers keep an eye on the alley where Thomas Fee, 52, of Hutchinson, barricaded himself in a garage with a gun, causing a standoff with police on July 4, 2014, in Hutchinson, Kan. Fee was eventually taken into custody after two attempts at flooding him out with tear gas.
Gloria Speed, aunt of Jay Anderson, who was shot and killed by a Wauwatosa Police officer in the early morning hours of June 23rd, is comforted during a Coalition for Justice rally at Red Arrow Park in downtown Milwaukee.
Steven Gillis sheds tears during a Homeless Persons' Memorial & Candlelight Vigil at St. John's Lutheran Church in Knoxville, Tennessee on Thursday, December 21, 2017. The vigil featured a candlelight walk on Broadway and a church service where the names of those passed were read.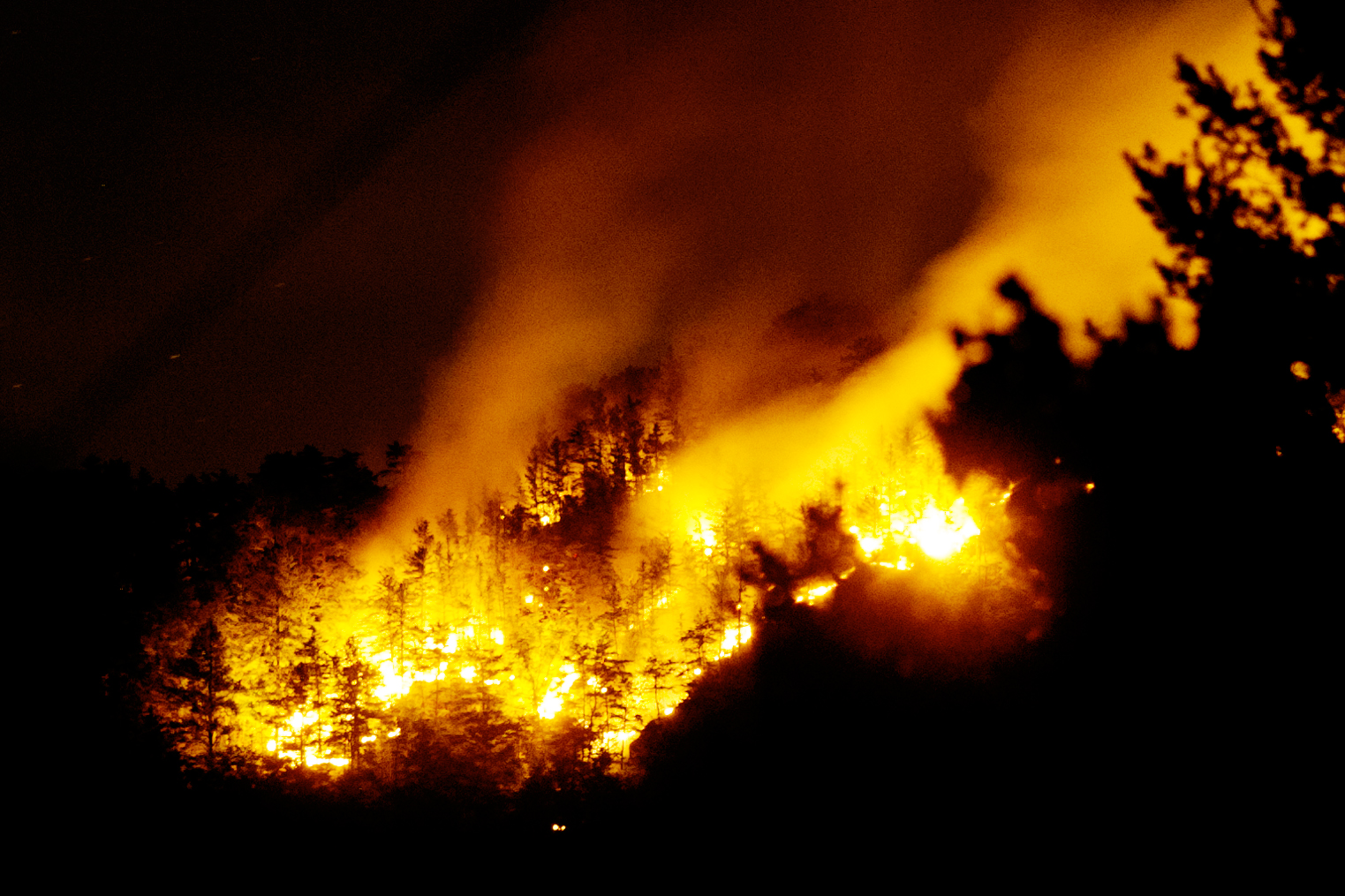 A wildfire is seen burning atop English Mountain outside of rural Sevierville, Tennessee on Saturday, August 26, 2017.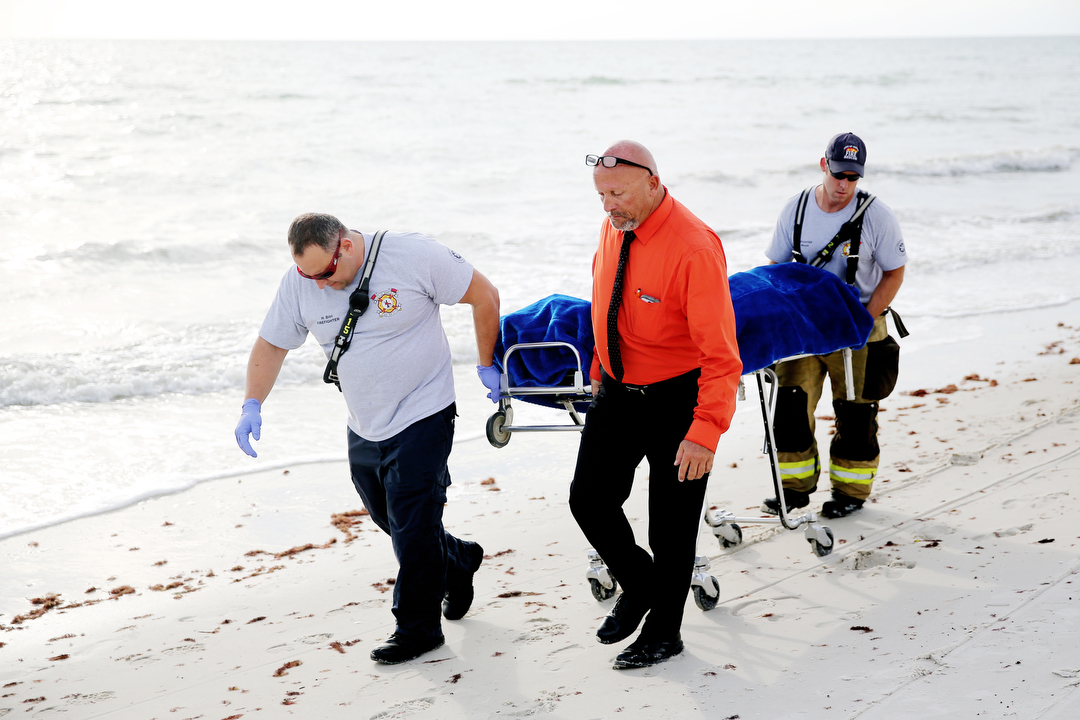 Collier County Coroners remove a corpse that washed ashore at Vedado Beach in Naples, Florida, on Monday, July 12, 2015.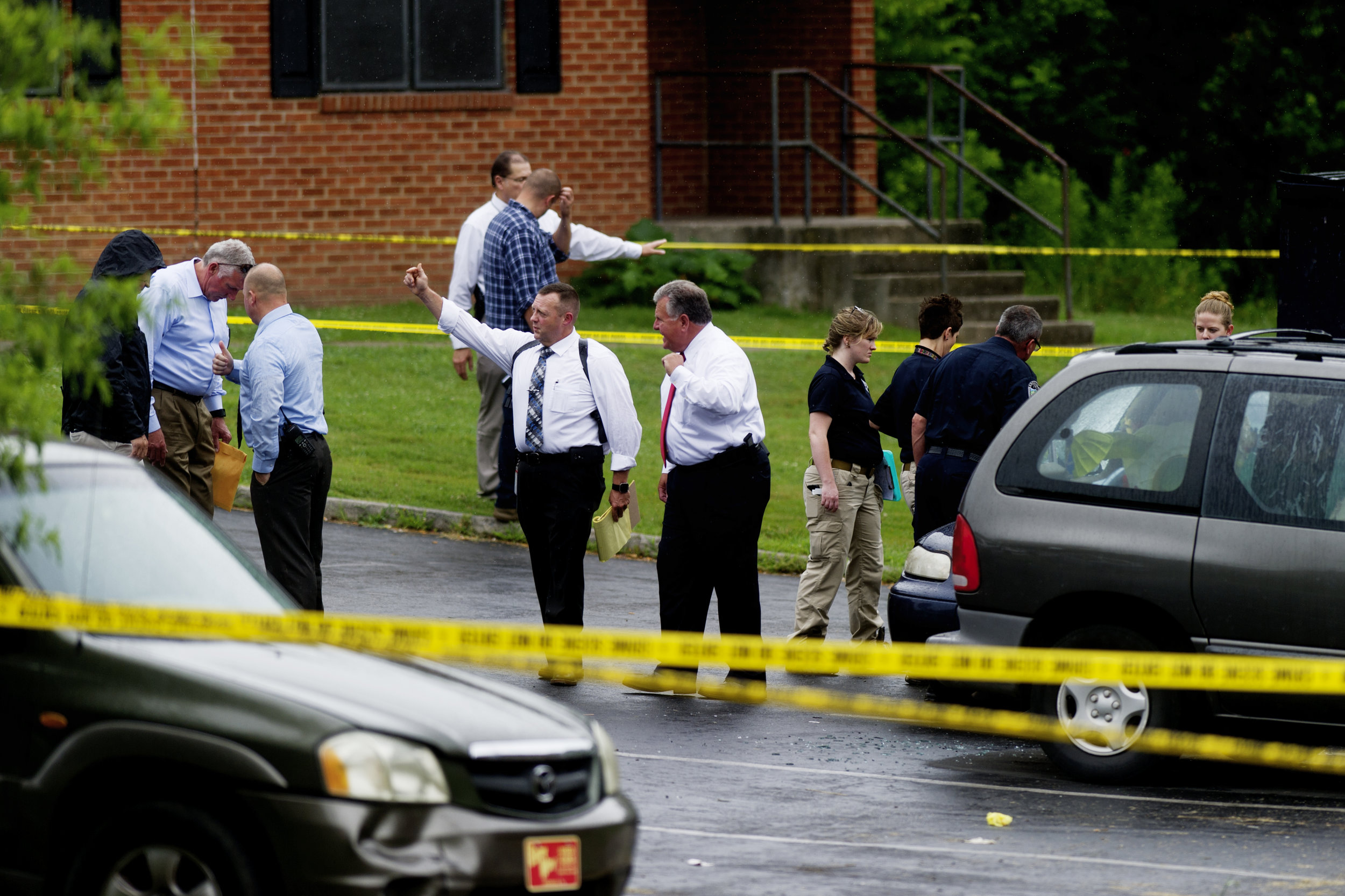 Investigators at the scene of a triple shooting at Montgomery Village Apartments in South Knoxville. Three individuals were reported shot and two killed.
A man who fell over unconscious from an apparent overdose is helped up by others and carried to emergency assistance from the middle of a mosh pit at the annual Athens Halloween Block Party in Athens, Ohio. The block party is the second largest in the country after Mardi Gras in New Orleans.
Ed Call, of American Home Builders, works on removing old roofing material that blew off of Glenn Warren's new home under construction on Wiley-Oakley Drive after a strong windstorm hit the area in Gatlinburg, Tennessee on Friday, May 5, 2017.
A protestor defaces a Confederate battle flag during a protest against a visit to University of Tennessee by Traditionalist Working Party leader Matthew Heimbach on February 17, 2018.
A worker walks across the tarmac at Mitchell International Airport during a heavy snowfall in Milwaukee. Crews were working hard to keep runways and terminals clear of snow, allowing a fair number of planes to take off and land despite several cancellations.
The Oak Creek Police Department Honor Guard carries the casket of Jennifer Sebena to her final resting place at Wisconsin Memorial Park in Brookfield, Wisconsin, on December 29, 2012. Wauwatosa Police Officer Jennifer Sebena was shot and killed by her husband, Benjamin Sebena, while on duty Christmas Eve.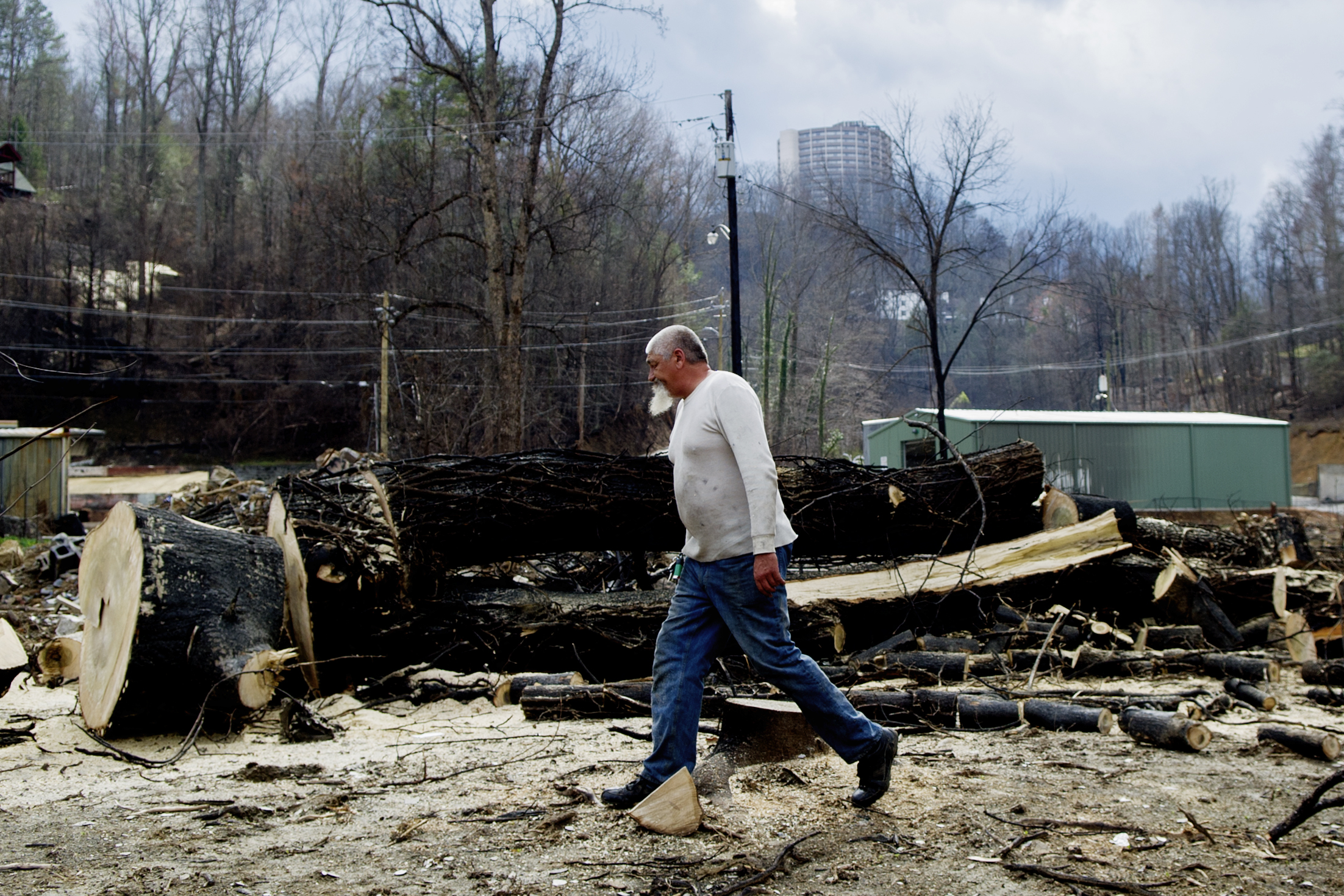 David Dowling of Monkey Man Tree Service works cutting apart a downed tree damaged by the wildfires along Baskin's Creek Road 90 days after the Gatlinburg wildfires in Gatlinburg, Tennessee.
Donald 'Don' Blankenship, former chief executive officer of Massey Energy Co., center, and his attorney Bill Taylor, left, exit the Robert C. Byrd U.S. Courthouse in Charleston, West Virginia, U.S., on Thursday, Dec. 3, 2015. Blankenship, one of Appalachias last coal barons, was found guilty of plotting to speed up production by ignoring safety rules at a company mine that later blew up killing 29 workers.